Western-Union is currently not available, please choose another payment method.
How to pay for your order with Western-Union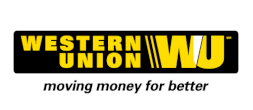 Western-Union is a reliable payment solution for any transaction. We chose Western-Union because the payments are fast and confidential . You can pay at one of the many Western-Union outlets (500 Western-Union agencies in over 000 countries) or directly on their website with your credit card.
By using Western Union you can pay by credit card or go to the nearest branch with your national identifier et payment information .
You can select from the options below the one that suits you best:
PAY BY CREDIT CARD FIND A NEAR WESTERN-UNION AGENCY
This beneficiary is only valid for 72 hours from the date of your order.

This beneficiary is for single use only for this order. For any future order, we will automatically give you a new beneficiary.
Please follow the instructions below to complete your payment:

Use First and last name of beneficiary given on the payment page after placing your order.
Use your first and last name as shown on your national identity card.
Use the country of destination as mentioned on the payment page after placing your order.
Put the amount you want to send (you also need to pay the transfer fee, we need to receive the exact order amount)
The beneficiary must receive the payment in cash (Please select the payment option as cash withdrawal)

Please make sure the recipient receives the same currency you send.


If you are paying in €, please specify that our beneficiary must receive the total amount of your order in € and not in another currency.
If you are paying in $, please specify that our beneficiary must receive the total amount of your order in $ and not in another currency.
If you are paying in a currency other than $ or €, then please request that the payee receive in $.
Note that the minimum amount is € 50 ($ 60).


IMPORTANT:

In "reason for payment" you must ABSOLUTELY choose "Humanitarian aid" or "Gift" (or similar).


Do NOT choose "help a loved one" (or anything related to loved ones), or your payment could be canceled.

Pay and keep the MTCN tracking number that the agent or the WU site provides.
After your payment, please send us the confirmation form below:

---
Confirm my payment: